Get Hajj and Umrah Visa With Bismillah Tours
Do you want to have an experience that can deeply change your life? Many Muslims go to Makkah for Umrah and Hajj. These pilgrimages are essential to their faith and bring a lot of cultural and spiritual meaning.
So, if you're a resident of the USA planning to go on this unique journey in 2024, you're in for a treat. Securing your Umrah and Hajj visas has never been easier, thanks to recent updates in visa policies. And we're here to help you understand how to get your Umrah or Hajj visa from the USA without any problems.
Process for Hajj and Umrah Visa From the USA
Getting your Saudi Arabia Umrah visa is a very straightforward process. Simple online Umrah visa applications are available. But to make it a smooth experience, we've put together a guide to help you get going.
Online Application: You no longer need to deal with paperwork or go to faraway offices. In 2024, you can apply for a Hajj or Umrah e visa. It's easy to do online. You can complete the forms and send your documents from your home. This way, you save time and make sure your application is accurate.
Requirements: Ensure you gather all the necessary papers and details before applying online. The stuff you need might change depending on the pilgrimage you're going on. Still, you need some essential documents for an Umrah Visa for US citizens. These include a valid passport, which is good for a minimum of six months following your departure. You'll also need a colored passport-size photograph and a filled-out visa form. Also, don't forget proof of your status as a Muslim, often in the form of a certificate from your local mosque. A vaccination certificate against meningitis and round-trip flight booking is also needed.
Processing Time: It is advisable to apply well in advance of your chosen travel dates because processing times for Umrah or Hajj visas can vary. During peak pilgrimage seasons, more applications may lead to longer processing times. To ensure prompt delivery, apply for an Umrah visa as early as possible. It usually takes 5-10 days to arrive.
Visa Fee: Lastly, always check the Hajj and Umrah visa fees. The Umrah visa price is generally between $100 to $300. The charges for a Saudi visa on arrival are likely to be higher.
Difference Between Saudi Tourist Visa, Umrah, and Hajj Visa
It's essential to know the differences between three types of visas for Saudi Arabia: one for tourists, one for Umrah, and one for Hajj. Each visa has a different job and requires different things.
Umrah Visa
The Umrah Visa is only for people going on a lesser pilgrimage called Umrah. You can make this pilgrimage at any time of the year. It's a critical and meaningful journey for Muslims. According to the Saudi Arabia visa policy, you can stay up to 90 days with an Umrah visa. However, it is crucial to know that it is a single-entry visa. Umrah visa for green card holders and US citizens is easy to get. You just have to be a Muslim and have the correct documents. Also, remember to apply with an Umrah travel agency like ours so the entire process is smooth. We will assist with the visa application process and handle all the details. So, you can easily apply for an Umrah visa online with Bismillah Tours.
Hajj Visa
Hajj is a significant journey for Muslims, and it's one of Islam's five pillars. All able Muslims should take it at least once, but only if they can physically and financially do it. It takes place once a year, and the Hajj visa is provided for this purpose. The visa allows you to stay in Saudi Arabia for the duration of the Hajj, and you must leave by the 25th of the Islamic month of Dhual-Qa'dah. You can also apply for a Hajj e visa. Just remember that it is a strict and structured process. You must apply for your Hajj visa through an Islamic travel agency like ours to provide proof of flights and hotel bookings.
So, understanding the Hajj and Umrah visa policy is essential for a smooth experience. Remember, if you want a Hajj or Umrah visa from the USA 2024, you must do it through an Islamic travel agency like Bismillah Tours.
Saudi Arabia Tourist Visa
The tourist KSA visa is for those who want to visit Saudi Arabia for exploring and tourism. You can visit historical and exciting places in cities like Riyadh and Jeddah. You can even go to the UNESCO World Heritage site of Diriyah. The tourist visa lets you spend around three months in Saudi Arabia. This provides you with plenty of time to explore and enjoy the fantastic heritage and culture of the place. You can apply for a Saudi e visa or Saudi Arabia visa on arrival for tourism purposes. It is open to citizens of various countries, including the United States. Moreover, the Saudi Arabia visa application is pretty simple. You can do it online through the Saudi Arabia e-visa website.
On a Final Note
You now have the information you need to make your dream pilgrimage happen. The way to apply for an Umrah visa has become more accessible because you can do it online. Getting a Saudi Arabia visa for US citizens for these important religious journeys is easier than ever.
So, don't wait any longer and book your Hajj or Umrah packages with Bismillah Tours. You can quickly get a Hajj or Umrah visa 2024 without complicated processes. Leave the paperwork to us, and get ready for your pilgrimage.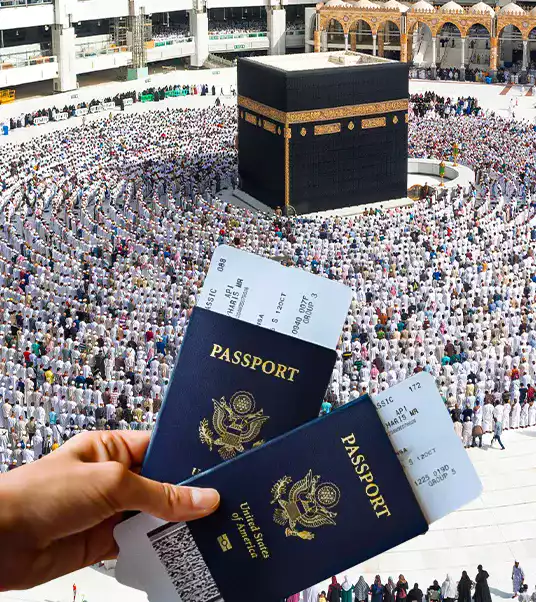 FAQs
Book your Umrah packages 3 to 6 months in advance. This way, your Umrah visa application is also submitted early. This is helpful because securing a spot can be difficult during the peak periods. So, for timely and smooth processing, apply early!
Hajj visas are free for all pilgrims.
The only significant new visa rule is that now US citizens can get Hajj and Umrah e visas. Also, women can now perform Hajj or Umrah without a Mahram (male relative).
An Umrah visa is perfect if you only want to visit Jeddah, Makkah, and Medina and perform Umrah. But if you want to explore other cities, a Saudi Arabia visa for tourists is the right choice. Remember that you can't perform Hajj or Umrah on a tourist visa.