 5 Star Ramadan Umrah Packages
What Our Clients Says

I recently booked an Umrah package with Bismillah Tours, and it was a really good experience from start to finish. Their website has a very user-friendly interface. Their customer support team was also very helpful in guiding me with the right type of package for my budget. Overall it was a great experience!

Their Umrah packages are extremely affordable for those who have a tight budget. I was worried at first that they might not be able to suggest a package for my budget. However, I was lucky enough to find a cheap Umrah package with all the facilities I needed.

The people at Bismillah Tours ensured everything was well taken care of during our Umrah journey. They made sure all the arrangements for accommodation, transportation, and logistics went perfectly. I also happened to book a Ziarat tour in my package, and it was a very detailed and informative experience.
Ramadan Umrah Packages
Do you want to go on a life-changing journey during Ramadan? You're in luck! Bismillah Tours has put together affordable Ramadan Umrah packages just for you! You're about to have an incredible experience as we take you to the beautiful and spiritual cities of Makkah and Madinah. Get ready to strengthen your faith and make memories you'll always remember.
Imagine yourself being there with millions of other pilgrims, going around the Kaaba, walking between two hills, and praying at the Grand Mosque. You can hear the sounds of people reciting holy verses all around you. It's an experience that you'll never forget.
Tips to Book Cheap Ramadan Umrah Packages
Booking a cheap Ramadan Umrah package doesn't mean you have to give up on having a good experience. All you need is some research and the help of a trustworthy travel company like Bismillah Tours. Then it is simple to find a package that fits your budget and gives you a memorable experience. So, follow these tips and look for the best deals for your upcoming Umrah pilgrimage.
Plan and Book Early: Firstly, begin preparing for your Umrah beforehand. By booking early, you can benefit from discounts. The demand for Umrah packages gets higher as Ramadan approaches, so prices might increase, making it harder to find available spots. Therefore, try to secure your place as soon as possible to ensure you get the best rates.
Be Flexible with Dates: Be open to changing your travel dates. The cost of Umrah packages can change depending on when you go, and usually, it's more expensive during busy times. Since Ramadan is already a very busy period, go on weekdays because they are often cheaper. Being flexible like this can help you find the best offers to save money.
Compare Multiple Packages: Don't just pick the first package you find. Spend some time looking into and comparing different packages. We offer a variety of cheap Ramadan Umrah packages to choose from. Look at what's included, like hotels, transportation, food, and any extra services. Our Ramadan all-inclusive packages are perfect if you want all these services. So you can be sure you're making the most of your budget.
Consider Group Bookings: Lastly, traveling with a group can often help you save money. So, get your family, friends, or people from your community and plan your Umrah together. You'll have amazing experiences and spend less money too.
Benefits of Doing Umrah in Ramadan
Performing Umrah in Ramadan means much greater benefits and blessings. And that's why Ramadan is the peak season of Umrah. While the crowds are huge during this time, the benefits are all worth it.
Increased Rewards: Ramadan is a special month that brings a lot of blessings and spiritual rewards. The Prophet Muhammad (PBUH) said that making Umrah during Ramadan has the same reward as doing Hajj. It's a great time to ask for forgiveness, get closer to God, and receive many blessings.
Chance for Self-Reflection: During Ramadan, people practice self-control and become more committed to their religion. Umrah helps remove sins, so it's a chance to start from a clean slate. The peaceful atmosphere in Makkah and Madinah helps them on this journey of self-reflection.
Experience Taraweeh Prayers: One of the most special things about doing Umrah during Ramadan is that you can be a part of the special nightly prayers called Taraweeh and Qiyam-ul-Layl. These prayers happen every night during Ramadan. When you stand next to other Muslims and pray together, it creates a sense of togetherness.
Sharing in the Fasting Experience: Lastly, when people go for Umrah during Ramadan, they get to be part of a big group of Muslims who are all fasting together. Fasting is not just a religious duty; it also helps to make your heart and mind pure and helps you feel for the less fortunate.
Choose Bismillah Tours for Ramadan Umrah From the USA
If you're in the USA and want to do Umrah during Ramadan, you should book with Bismillah Tours. We are experts in making sure that people who travel from the USA have an amazing time and create memories that will last a lifetime.
Experience and Expertise: Bismillah Tours has organized several Umrah pilgrimages. Our number one focus is making sure everything goes without any problems from the time you leave until you come back. So, you can rest assured that you will have a hassle-free and meaningful journey.
Packages Made for Your Convenience: We know that it's important for you to have choices and be able to plan according to your needs. That's why we have different packages with different durations, prices, and dates for you to choose from.
Easy Travel Planning: Moreover, we handle everything you need for a smooth and comfortable journey from the USA to the holy cities of Makkah and Madinah. So, you can focus only on your spiritual experience.
Dedicated Customer Support: Lastly, our friendly customer support team is here for you 24/7. We understand clear communication is important and want to give you the best service possible throughout your journey.
To Wrap Things Up
As the month of Ramadan gets closer, many people feel a strong desire to go to Umrah. So, Bismillah Tours is here to help make your dreams come true by offering well-rounded and cheap Ramadan Umrah packages. Our goal is to make sure that your journey goes smoothly. So why wait? Don't miss out on this incredible journey for your heart and soul. Book your Ramadan Umrah packages now. You'll experience blessings, peace, and positive changes in the holy cities.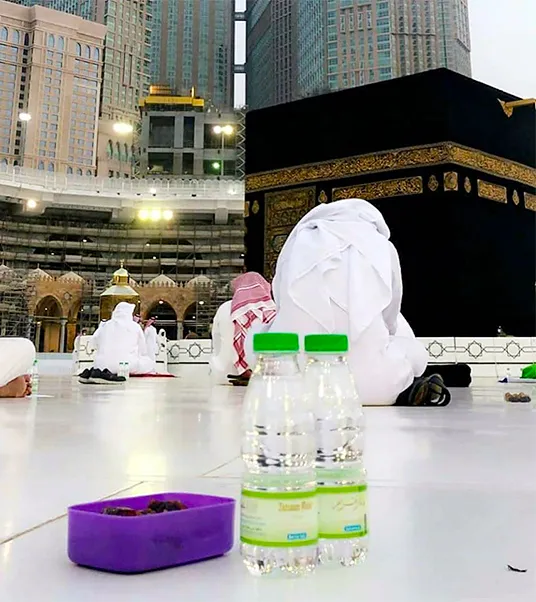 FAQs
Our basic Ramadan Umrah packages include these services Umrah Visa, Flights, Accommodation and transportation. But if you want any additional services, contact us, and we will make it happen!
Most of our hotel options provide one free meal per day. But if you wish to add full-board meals to your Ramadan all-inclusive packages, we can also arrange that.
We value our customer's comfort the most. Therefore, flights are available from nearby airports, no matter where you are in the USA.
We provide several different packages, ranging from luxury to cheap Ramadan Umrah packages. So, whether you want a lavish stay or want to experience the spiritual journey on a tight budget, we will arrange it for you!