 5 Star Umrah Packages
What Our Clients Says

I recently booked an Umrah package with Bismillah Tours, and it was a really good experience from start to finish. Their website has a very user-friendly interface. Their customer support team was also very helpful in guiding me with the right type of package for my budget. Overall it was a great experience!

Their Umrah packages are extremely affordable for those who have a tight budget. I was worried at first that they might not be able to suggest a package for my budget. However, I was lucky enough to find a cheap Umrah package with all the facilities I needed.

The people at Bismillah Tours ensured everything was well taken care of during our Umrah journey. They made sure all the arrangements for accommodation, transportation, and logistics went perfectly. I also happened to book a Ziarat tour in my package, and it was a very detailed and informative experience.
Cheap Umrah Packages With Bismillah Tours
Welcome to the magical world of Umrah! Get ready for an amazing journey that will fill your heart with faith and create memories that will stay with you forever. Bismillah Tours is excited to offer you a variety of packages to perform Umrah. We have different packages to choose from that match your preferences and budget. Whether you want cheap or luxury Umrah packages, we have it all. So, get ready to explore our exciting Umrah packages from the USA. It's going to be a once-in-a-lifetime experience!
Services Included in Our All-Inclusive Umrah Packages
Our goal is to create special Umrah packages that exceed your expectations. We want to make sure that your pilgrimage is smooth, easy, and full of happy moments. Therefore, we provide include various services to take care of every part of your journey.
Flights and Transportation: A smooth journey starts with easy travel plans. That's why our packages include return flights from the USA to Saudi Arabia. We work with trustworthy airlines to give you comfortable and convenient flights. Moreover, we also offer transportation services to make sure you can easily get to your hotel.
Accommodation: Our Umrah packages also include accommodation that we carefully picked out. These places are close to the holy sites, so it's convenient for you. It's an excellent way to unwind and get ready for the next day's important activities. And don't worry; we provide a variety of hotel choices. So, whether you want a cheap or luxurious stay, we will gladly accommodate you.
Umrah Visa: Getting a visa can sometimes feel really confusing. But don't worry! Bismillah Tours can help you with everything. When you choose our Umrah packages, we'll ensure you get an Umrah visa for your journey. We'll handle all the complicated paperwork, so you won't need to worry about it. Our staff of experts will guide you during the entire process and make sure you have everything you need.
Ziarat Tours: Lastly, explore the fascinating Islamic history of Saudi Arabia with our Ziarat tours. You'll get to visit important places from the past, like the Cave of Hira, where Prophet Muhammad (PBUH) spent time, and the birthplace of Prophet Muhammad (PBUH).
Choose From Cheap and Luxury Umrah Packages
We understand that every person has different likes and needs. Therefore, we have different types of Umrah packages to choose from. Some are cheaper and suitable for people who want to save money, while others are more luxurious and extravagant. Whether you want to spend less or have a fancy experience, we have the right package for you.
Money should never stop anyone from experiencing a journey as unique as Umrah. Our cheap Umrah packages are designed with everyone in mind. They are carefully created to allow everyone to fulfil their pilgrimage dreams without worrying about money. We understand that sometimes you can have a tight budget. So we have ensured that our packages provide you with the greatest value for your money. These packages include all the important services mentioned above. So you can still have a meaningful Umrah experience, regardless of your budget.
But our luxury Umrah packages are perfect if you want a more fancy experience. We take care of every detail to make sure your journey goes beyond all your expectations. You will stay in the best hotels and can even have your own private transportation, so getting around is easy and comfortable. Our goal is to make sure you have all you need so we provide the best services and resources. You can focus on your connection with Allah and also have the pleasure of enjoying top-notch luxury.
Things to Know Before Performing Umrah
Before booking your Umrah packages from the USA, you must prepare for the journey. This includes knowing the practices of Umrah and the culture of Saudi Arabia. So, we have listed a few things you must know before starting the journey. This will make your time in Saudi Arabia much easier.
Understand the Rituals: Firstly, you must be aware of the rituals of Umrah and their importance. So do your research on the four rituals of Umrah.
Plan Ahead: Make sure your hotel is close to the holy sites. You should not spend most of your time travelling. With our range of Umrah packages, we can help you choose the right accommodation.
Keep Important Travel Documents: We all know the importance of keeping your visa and passport with you. But many times, people tend to forget. So, remember to carry those and stay up to date with any Umrah-related travel regulations.
Health: Make sure that you are physically fit to perform Umrah. The journey involves a lot of walking, so it's best to speak with your doctor. Also, remember to carry any important medicines you might need.
Pack Appropriately: Carry light and comfortable clothing, according to the weather. Also, remember to dress modestly and wear comfortable shoes.
Learn Arabic Phrases: Lastly, try to learn a few Arabic phrases. Even though it's not necessary, it will help you communicate easily with the locals.
To Wrap Things Up
As you begin this incredible and moving journey of Umrah, you will see people from different backgrounds coming together. They all share the values of being faithful, humble, and loving. This journey goes beyond borders, cultures, and languages, bringing people's hearts together in faith.
Moreover, our carefully designed Umrah packages will give you a smooth and fulfilling experience. From the time you book with us, your satisfaction is the most important.
So, what are you waiting for? Book an Umrah package 2024 with Bismillah Tours and prepare for a renewing journey.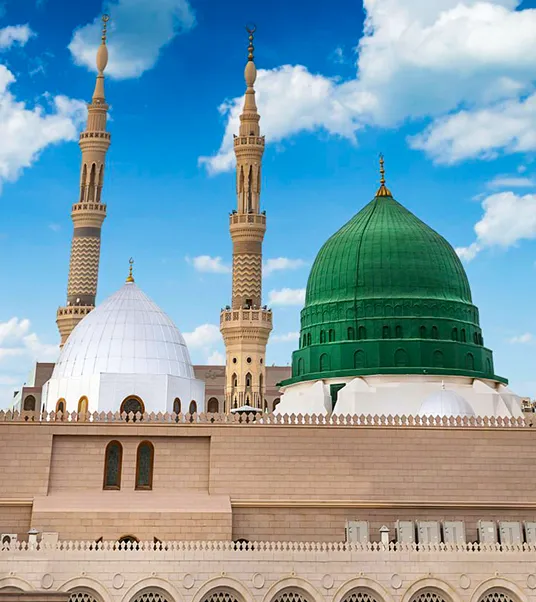 FAQs
Booking in advance is highly recommended for a smooth and well-planned pilgrimage. So, we suggest booking it 3 to 6 months in advance.
The best time to get a cheap Umrah package is typically during the non-peak seasons. This includes months following Ramadan and before the Hajj season. During this time, prices tend to be lower because of less demand.
We provide a range of hotel options to suit your needs. However, if you want to add a hotel of your choice, feel free to do so.
Our basic Umrah packages range from 7, 10, and 14 nights. However, you can customize it for up to 30 nights.
You can visit the three cities with an Umrah visa. Makkah, Madina and Jeddah
Most of the hotels in our Umrah packages offer complimentary breakfasts. But if you want full board meals, we can arrange that for you.
Yes, we provide you with the choice of including Ziarat tours in your Umrah package.