Do Umrah From Houston, USA With Bismillah Tours
Umrah from Houston allows you to begin your journey from the middle of Texas and end up in the sacred cities of Makkah and Medina. This isn't just any regular journey. It's a unique experience that will fill your heart with incredible moments. We at Bismillah Tours tell you all about Umrah packages from Houston.
So, get ready for Umrah from Houston 2024. We'll cover all the details to make your journey easy and enjoyable. This is your chance to have a unique adventure, grow spiritually, and create lasting memories. You can explore Umrah's wonderful world with these packages, starting from Houston.
Types of Umrah Packages From Houston
If you're planning to go for Umrah from Houston, choose a package that suits how you like to travel and how much you can spend. These packages come in three types: 3-star, 4-star, and 5-star. Each type provides the same base services with any add-ons you might like. The difference comes in the quality of services. But don't worry, spending less doesn't mean you get less quality. The quality of all packages is made to give you comfort, but some are more luxurious than others.
3 Star Umrah packages are designed for travelers seeking a comfortable and budget-friendly experience. These packages will most likely include 3-star hotels or similar quality. The flight classes also range from economy to premium economy. 3-star Umrah packages are an excellent choice for pilgrims looking to perform Umrah without extra expenses.
For those who want more comfort and convenience, 4-star Umrah packages offer a step up in quality. They have 4-star hotels with comfortable rooms and additional services. Plus, you might even skip economy class and enjoy a business class flight. They provide the perfect balance between affordability and added comfort.
Lastly, 5-star Umrah packages from Houston are the perfect choice for luxury seekers. They are a premium choice. With luxurious five-star hotels, first-class flights, and the best services, these packages will give you an experience like no other.
Tips to Get the Best Umrah Package From Houston
So, you've decided to go for Umrah from Houston 2024. But how do you select the best package that's just right for you? Here are a few valuable tips to ensure you select the right one.
Plan Ahead: Firstly, if you want to get the best Umrah package, you should start planning early. This means you should begin looking at and comparing different packages ahead of time. This way, you can get discounts for booking early and have more choices.
Budget: Determine how much you can spend and ensure you don't exceed that amount. Umrah packages from Houston have different prices, so figuring out how much you can afford is essential.
Package: Take a good look at what each Umrah package includes. Ensure it has everything you need, like flights, hotels, Hajj and Umra visa, and anything else you want.
Accommodation: Lastly, consider your accommodation preferences. Do you want to stay in a fancy hotel, a less expensive one, or something in the middle? Make sure the deal you pick matches how comfortable and fancy you want it to be.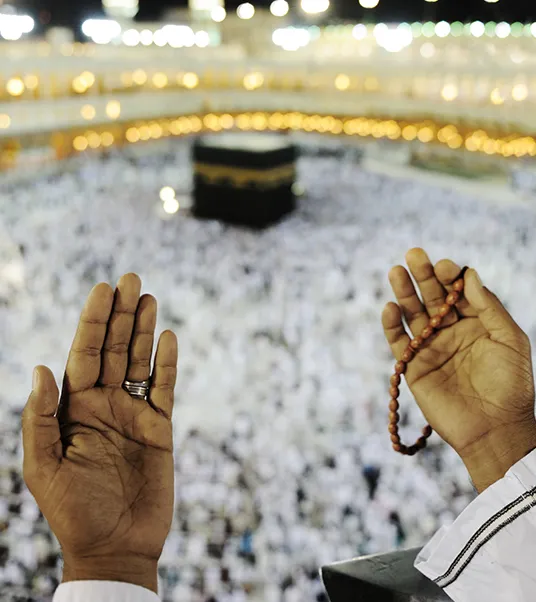 FAQs
Yes, Bismillah Tours allows you to customize your Houston Umrah package to match your preferences and needs. We want to ensure your journey is just the way you want it. So, contact our staff to discuss how you'd like to change it.
When you get an Umrah visa with us, you can stay in Saudi Arabia for two weeks. But if you book a package during Ramadan, you can stay for the whole month.
Umrah during winter is best to get the most affordable rates and good weather.