 5 Star December Umrah Packages
What Our Clients Says

I recently booked an Umrah package with Bismillah Tours, and it was a really good experience from start to finish. Their website has a very user-friendly interface. Their customer support team was also very helpful in guiding me with the right type of package for my budget. Overall it was a great experience!

Their Umrah packages are extremely affordable for those who have a tight budget. I was worried at first that they might not be able to suggest a package for my budget. However, I was lucky enough to find a cheap Umrah package with all the facilities I needed.

The people at Bismillah Tours ensured everything was well taken care of during our Umrah journey. They made sure all the arrangements for accommodation, transportation, and logistics went perfectly. I also happened to book a Ziarat tour in my package, and it was a very detailed and informative experience.
December Umrah Packages
As the year ends, we think about the past months and plan for the future. There is a joyful and united feeling in December due to celebrations. So, it is a great time to start a journey of finding ourselves and connecting with Allah. Picture yourself standing in Makkah and Madinah with people from across the world with similar beliefs. You can feel positive spiritual energy in the air. With Bismillah Tours' December Umrah Packages, you can fully experience this life-changing journey and create memories that will stay with you forever.
Cheap December Umrah Packages
Don't let money stop you from going on a spiritual journey in December. We have cheap December Umrah packages that give you a perfect chance to make your pilgrimage dreams come true without costing too much. We believe that everyone should be able to perform Umrah. So, these low-cost packages make sure you can go on your journey without giving up on good quality or convenience.
Umrah can be expensive, but our cheap December Umrah Packages make it affordable. We find the best deals on flights and transportation so that you can reach your destination without spending too much money. We aim to help you save money and make your pilgrimage dreams come true without worrying about your finances.
If you want to travel on a tight budget and still have a comfortable and convenient place to stay, December Umrah from the USA is perfect. Finding affordable accommodations without sacrificing cleanliness and being close to the holy sites is important. So, we've picked out budget-friendly places to stay that will meet these needs. You can be confident that your accommodations will be comfortable and within your budget.
Why Perform December Umrah From the USA
If you live in the United States and you're thinking about going to Umrah, December is the best time to start your journey. Going for Umrah in December from the USA has many benefits.
Less Crowded Holy Sites: Firstly, there are fewer people around, so you can see the holy places without dealing with big crowds. Since December is not the busiest time for Umrah, you'll have a peaceful experience in Makkah and Madinah. This means you can pray without distractions, making it more calm and personal.
Enjoy Pleasent Weather: In December, the USA gets very cold. But the weather in Makkah and Madinah is nice and comfortable. This is a good time to perform the Umrah rituals because the weather is not too hot or uncomfortable. You don't need to be concerned about the heat to concentrate on your spiritual journey. Enjoy the pleasant weather and connect with Allah through acts of devotion.
Affordable Rates: Lastly, during December, fewer people go to Umrah, so you are likely to get discounts and good deals. This means you can go on your religious journey without overspending. December Umrah from the USA is a great chance to make your spiritual dreams come true without worrying too much about your budget.
Services Included in All-Inclusive December Umrah
Do you want to go to Umrah without worrying about logistics? You're in luck. Our all-inclusive December Umrah packages include every service you need. So, you can focus on your pilgrimage while we take care of everything else.
Flights: We provide round-trip flights from the USA to Saudi Arabia. With our partnership with trusted airlines, we make sure you enjoy a hassle-free and comfortable journey. So, you don't need to worry about transportation because we will handle that for you. Just sit back, relax, and concentrate on the spiritual importance of your trip.
Accommodation: We know how important it is to have a nice and easy place to relax when you go on a pilgrimage. Our packages include hotels that we've picked out very carefully. They are comfortable, close to the holy sites, and have everything you need.
Umrah Visa: Getting a visa for Umrah might seem difficult, but don't worry! Our all-inclusive December Umrah packages include help in getting your Umrah visa. We will assist you with the application process and make sure you have all the right documents.
Transportation: We also offer optional transportation services. These include taking you to and from the airport, as well as taking you to important holy places.
Full-Board Meals: While most hotels in our packages offer one free meal, we can also arrange full-board meals. So, if you want your meals to be taken care of, you can add them to your package.
Ziarat Tours: Lastly, we also offer optional Ziarat tours. These tours let you visit important places and famous landmarks in Makkah and Madinah. This way, you can learn more about the history and traditions of Islam.
To Wrap Things Up
December offers great opportunities for a truly meaningful Umrah experience. Whether you want an affordable option or a package that takes care of everything, Bismillah Tours has what you need.
So, what are you waiting for? Let Bismillah Tours be your guide on this special journey. Book one of our December Umrah packages and get ready for a unique experience.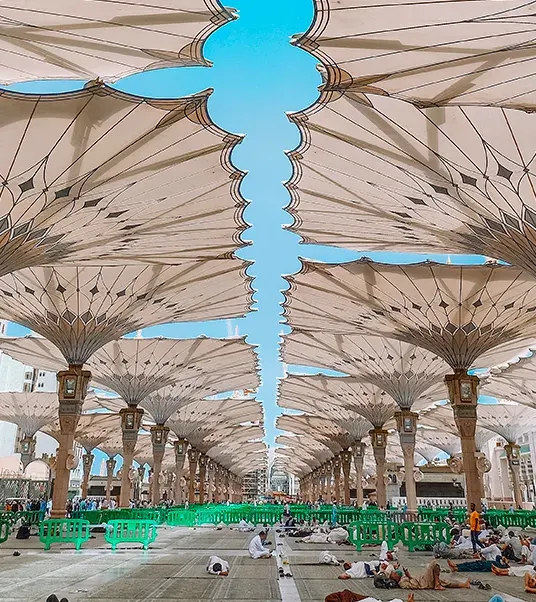 FAQs
Saudi Arabia gets extremely hot during the summer. But the winter months are much cooler. December is the start of winter, so the weather is not too cold either. So, performing Umrah in December is much easier with mild temperatures.
December is the holiday season, so people are off from work. This means that most people travel during December. So, December Umrah packages are quite popular. However, with many people visiting other destinations, there are fewer crowds compared to Ramadan.
Bring along light clothes that are right for the weather in Saudi Arabia. But since it gets much colder at night, consider wearing layers to adapt to the temperatures of December.
You can visit Makkah, Madinah and Jeddah in your Umrah package.