Get the Best Deals for Umrah From Chicago
As a Muslim, are you seeking a unique experience that can make your heart and mind feel amazing? Then get ready! Umrah is a pilgrimage with deep spiritual meaning and can make you feel like a new person.
So, if you're living in the lively city of Chicago and dreaming of a life-changing journey, prepare for something exceptional. We at Bismillah Tours are your guides to tell you all about Chicago Umrah packages.
Umrah Packages From Chicago 2024
Our Umrah packages from Chicago 2024 let you start your holy journey from the Windy City of Chicago. This means you don't have to travel between cities to find a flight that matches your schedule. With our packages, you can fly straight from Chicago, which is highly convenient!
Moreover, you can select from a variety of departure dates and packages. Whether you're going alone or with your family and friends, we can make a package that fits your schedule perfectly.
Also, you don't need to worry about accommodation. When you book an Umrah package from Chicago with us, you can choose from a range of convenient places to stay close to the holy sites. We'll also provide Umrah visas, so you don't need to be concerned about paperwork. This means you can fully experience the spiritual journey without missing anything important.
At Bismillah Tours, we carefully design and handle everything for your Umrah from Chicago. We take all the steps needed to help make your visit stress-free and enjoyable.
Best Time to Book an Umrah Package From Chicago
When you're getting ready for Umrah from Chicago, USA, it's essential to think about the right time for your journey. The two most important factors to consider are the weather and the importance of some months in Islam.
You can perform the Umrah at any time. But most people like it when the weather is moderate to make their journey more pleasant. So, Spring from March to May is perfect for good weather. This way, you can concentrate on your journey without extreme heat. Similarly, Autumn from September to November is also a good choice for pleasant weather.
Some particular times in the Islamic calendar are significant, and many people like to do Umrah during these times. The most popular month is Ramadan. That's because Ramadan is a highly religious month. It's a time of fasting, prayer, and self-reflection. So, it is considered to be highly rewarding to perform Umrah in Ramadan. But you must make bookings early because this is a hectic time for pilgrims.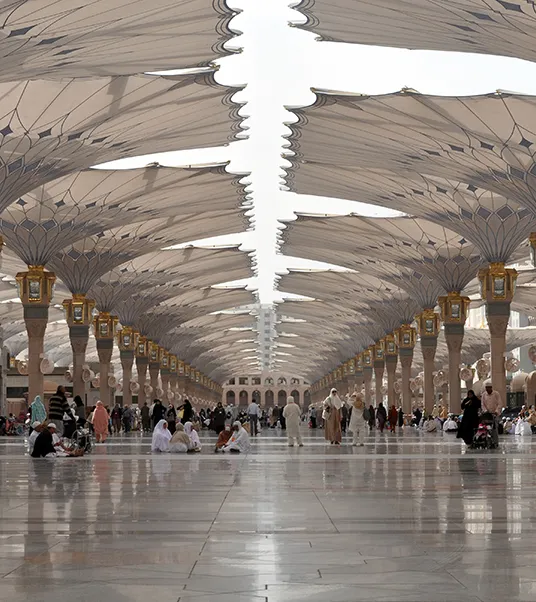 FAQs
Currently, no airlines fly directly to Saudi Arabia from Chicago.
A usual Chicago Umrah package lasts seven days, ten nights, or 14 nights. But we can extend it to 21 or 30 days upon request.
We suggest making bookings in advance, especially during peak periods like Ramadan. But at times, you may find excellent rates on last-minute packages. So, browse through our packages to find something that matches your schedule. Just remember to book early enough to have ample time to process your visa.