Umrah Packages 2024
Welcome, fellow travelers who want to visit the holy cities of Makkah and Madinah! If you've been waiting for the year 2024 to go to Umrah, your wait is finally over. Bismillah Tours is excited to introduce a wide range of Umrah packages 2024. We've put together different options that will suit your needs. So, join us on an amazing journey as we discover the exciting Umrah packages.
How to Get Cheap Umrah Packages 2024
Finding cheap Umrah packages 2024 is all about timing. Going on a spiritual journey doesn't have to cost a lot of money. By being prepared and doing research, you can find a great package that is affordable and meaningful. So, remember to note down the important dates, set reminders, and get ready to find the best deals for your unforgettable pilgrimage in 2024!
Book Early: Firstly, if you want to find a good and cheap Umrah package, here's an important rule to remember: plan early and book in advance. Start looking for the right package without wasting any time. By reserving your spot ahead of time, you can have more choices. Plus, you can pay the lowest price before it increases closer to the travel dates.
Off-Peak Season: If you want to find affordable Umrah packages in 2024, it's a good idea to travel during the off-peak months when fewer people are going. Usually, the months out of Ramadan and big holidays have fewer crowds and lower prices. So, by choosing to travel during these less busy times, you can save money and have a more calm and peaceful pilgrimage experience.
Shoulder Season: Lastly, another way to get good deals on cheap Umrah packages 2024 is to go during the shoulder seasons. These seasons happen right before or after the busiest time when the weather is still nice, but there aren't as many people. During the shoulder seasons, you can find a good balance between affordable prices and less crowded places. This way, you can have a meaningful Umrah experience without breaking the bank.
Choose From Affordable to Luxury Umrah Packages 2024
Whether you have a lot of money to spend or a tight budget, Bismillah Tours has many different options for Umrah packages 2024. We offer packages for all kinds of budgets, from cheap to luxury. Our goal is to make sure that everyone has a special and meaningful pilgrimage experience. You can select the package that best meets your needs and go on this important journey. Bismillah Tours will handle all the planning and organization so that you can focus on your spiritual connection.
Firstly, if you have a tight budget but still want a great experience, our cheap Umrah packages 2024 are the best option. These packages are made to give you the most for your money and make sure you have everything you need for your pilgrimage. You can go on a special journey for your soul and get all the services you need while staying within your budget. So, with our cheap packages, you can make your dream of going to Umrah come true without emptying your wallet.
But for those who want a more fancy experience, our luxury Umrah packages 2024 will be even better than you imagine. You can have a really luxurious experience, staying in five-star hotels. These hotels are famous for their perfect service. Our luxury packages are made to give you the most comfortable and special experience ever. We want to make sure your pilgrimage is something you'll never forget.
Tips for 2024 Umrah Packages From the USA
We know that going on Umrah from the USA needs careful thinking and planning. We want to help make your experience easy, smooth, and unforgettable. So, we've gathered some helpful tips just for you. Let's take a look and make sure your 2024 Umrah package from the USA is a great success!
Apply Early for Visa: The Saudi Arabian authorities have certain requirements for a visa if you want to go for Umrah. Starting the visa application process early is a smart move, so you have enough time. Make sure you collect all the documents you need and fill out the application correctly. Bismillah Tours will assist you every step of the way and help you get your visa on time. So there is little to worry about the visa because we will take care of it for you.
Understand the Weather: Before you go to Umrah, it's important to know what the weather will be like there. Saudi Arabia can have very different weather at different times of the year. Summers are usually hot, while winters are milder. So, choose a package that matches the kind of weather you prefer. Also, bring suitable clothes and accessories to stay comfortable there.
Be Mindful of the Culture: When you go to Umrah, it's really important to be aware of and follow the customs and rules of the country. It's a good idea to dress modestly, be polite, and remember to maintain the sanctity of the holy sites. By understanding and following these cultural rules, you'll have a better experience and show respect to the local people and other travelers on the same journey as you.
To Wrap Things Up
Experience a special and meaningful journey with Bismillah Tours' exciting Umrah packages 2024. We'll help you plan carefully and provide guidance throughout your pilgrimage. It will be a life-changing and positive experience. So don't hesitate! Check out our amazing Umrah packages for 2024 and start a journey that will give you memories to remember forever.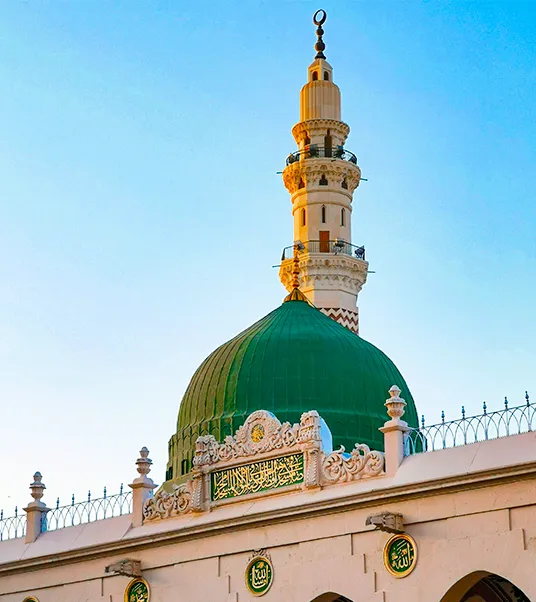 FAQs
Our basic services include Umrah Visa, Flights and Accommodation. Our optional services includes Full-Board Meals, Transportation and Ziarat Tours
Our Umrah packages start from 7 nights and can go up to 30 days.
If you wish to change or add any services to your all-inclusive Umrah package 2024, you can do so. We will tailor our services to meet all your needs.
We offer economy, business and first-class flights depending on the kind of package you choose. So, the flight type depends on the budget you have.